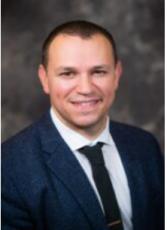 Address:
Coastal Orthopaedic and Sports Medicine
7710 US Highway 1
Port St Lucie, FL 34952
Dr. Joshua Sebag, DPM, earned his medical degree from Temple University School of Podiatric Medicine in Philadelphia, Pennsylvania, where he was accepted into the National Honor Society. He then returned to his home state of Florida where he completed an extensive three-year foot and ankle reconstructive surgical residency program at AdventHealth East Orlando, serving as chief resident his final year. He frequently participates in research specific to the foot, ankle, and lower leg and has been the recipient of multiple awards, including first place recognition by the American College of Foot and Ankle Surgeons.
Dr. Sebag provides comprehensive care at Coastal Orthopaedic & Sports Medicine Center in Port St. Lucie and Stuart, Florida. His specialized training includes:
Orthotics, Fasciitis, Bunion & Hammertoe Correction
Arthroscopy, Tendinitis & Sports Medicine
Minimally Invasive Techniques
Flat Feet & High Arched Feet
Foot & Ankle Trauma
Adult & Pediatric Foot Conditions
Arthritis with Total Ankle Joint Replacement
Deformity Correction Using Internal & External Fixation
The Diabetic Foot
Limb Salvage & Charcot Reconstruction
Dr. Sebag is a diplomate of the American Board of Foot and Ankle Surgery and is board qualified in foot surgery. He holds additional board-qualification in reconstructive rearfoot & ankle surgery and is a member of the Florida Podiatric Medical Association, the American Podiatric Medical Association, and the American College of Foot and Ankle Surgeons. He uses the latest in minimally invasive and traditional surgery techniques to achieve the best possible outcome.
When he is not practicing, Dr. Sebag enjoys golf, exercising, fishing, and spending time outdoors with his wife, Megan.
Dr. Joshua Sebag looks forward to treating the members of our community in the treasure coast as he joins Coastal Orthopaedic & Sports Medicine Center to serve Martin, and St. Lucie counties.